Beathard and Madden: Roommates again after 66 Years
By Frank Cooney, The Sports Xchange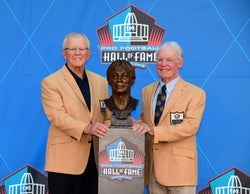 Aug 4, 2018; Canton, OH, USA; Miami Dolphins former director of player personnel and Washington Redskins and San Diego Chargers former general manager Bobby Beathard (right) and presenter Joe Gibbs pose with bust during the Pro Football Hall of Fame Enshrinement Ceremony at Tom Bensen Stadium. Mandatory Credit: Kirby Lee-USA TODAY Sports
When we heard that the great Pro Football Hall of Fame executive talent scout Bobby Beathard passed Monday (January 30), I could close my eyes and hear him talking with his friend and roommate from 66 years ago, John Madden.
Back in 1957 at Cal Poly in California, Madden was a big senior tackle and Beathard was a small (5-foot-9) junior quarterback. As roommates they bonded over their love of football and foresaw a future in which they would work in professional football.
"I loved football," Beathard told me in 2018 when he was in Canton for his induction. "I couldn't get enough of it. John was the same way. We got to know each other in college. We always talked about being in football after we got out of there."
Of course, they each wanted to be pro players, but that didn't happen.
Madden, a 21st-round, 1958 draft pick of the Philadelphia Eagles, blew out his knee in training camp and spent much of his rookie year watching films with quarterback Norm Van Brocklin, which helped set the stage on which he created his great coaching career.
As for Beathard, well. . .
"Bobby was too darned short to play quarterback," Madden said back in 2018 while discussing his former roommate's induction. "But if he'd been given a real good shot, I bet he'd have made it. Bobby was little, but he could really throw the football. He was hard-nosed and had a lot of guts."
Instead, Madden made his mark as one of the greatest coaches in pro football history, was at the heart of the No. 1 football video game of all time and then became an iconic broadcaster with a roomful of Emmys.
Beathard's career as an executive and talent-scout extraordinaire spanned four decades in the NFL. His teams -- notably the Miami Dolphins, Washington and San Diego Chargers -- won 10 division titles, seven conference championships and four Super Bowls.
Through it all Madden and Beathard stayed as close as two guys in their profession could.
I had the privilege to be with them at times when they met up. One get-together that stands out was during an NFL owners meeting in Palm Springs in the 1970s. They decided to leave the hotel campus and venture off to find a "real" Mexican restaurant. I tagged along and, as it turns out, it was a good thing I did.
As many of us learned years later during cross-country bus trips, Madden had a knack of discovering family-owned Mexican restaurants, which he and Beathard both liked.
This one near Palm Springs was a glorified family home out in the desert. The former roomies wasted little time daring each other to see who could ingest the hottest red or green chili sauce. They devoured the sauce with chips and Madden requested of the cook -- actually the family's mother -- "mas caliente," meaning hotter.
She came back with hotter. Madden and Beathard were in their glory, doing what came natural -- competing. "Mas caliente," Beathard said, and she made it hotter. Soon Madden and Beathard were red-faced with tears in their eyes and still requesting "mas caliente." The only winner was the Mexican family, who earned a huge tip. I drove back because Madden and Beathard were each a sweating through their shirts, red-faced and so teary-eyed there was no way they could drive.
"Great times," Madden said in 2018 when he recalled time spent with his old roommate.
While he never played pro football, Beathard managed physical feats that were astonishing. He was obsessed with body surfing and was almost masochist as a marathoner.
At an NFL meeting in Arizona, Beathard showed up all battered and bruised. "Fell off a surfboard and that's why I think body surfing is safer," he said. A few years later, during an owners meeting at the famous Breakers hotel in Florida, Beathard stood outside in a cold, windy, rain storm watching huge ocean waves crash against the shore. "Those would be a challenge he said." We think he was kidding.
As for those marathons, his best time was an impressive 2 hours, 30 minutes and he stayed in shape despite a busy work schedule, sometimes missing meetings so he could get in a run.
But his main focus was always football. It probably cost him his first marriage, to Larae Rich, with whom he had four children. When Beathard became as scout for the Atlanta Falcons in 1968, he was on the road so much that the marriage just fell apart.
He moved on, but his love for football endured, evidenced by a story in the Washington Post about the day in 1978 when he married Christine Van Handel at a friend's home in Marina Del Ray, California. The wedding was delayed because Beathard and friends were upstairs watching an exhibition game between the Los Angeles Rams and Oakland Raiders.
At halftime, he raced downstairs for his wedding and was back upstairs before the third quarter.
"It was the fastest wedding I've ever seen," Ted Grossman, a Hollywood stuntman and close friend, told the Los Angeles Times. "I was just turning around when Bobby's putting the ring on Christine's finger. The next thing I know, we're going back upstairs to watch the game.
"I remember Christine saying, 'Is this the way it's always going to be?' Bobby said, 'I'm afraid so.'"
We hear many stories about those who are deep into football, but Beathard steered his obsession in his own unique way. Today's football scouts and personnel staffs are hard into analytics so much it seems like they are dissecting men from ten feet away with a Hubble Telescope. Microchips are implanted in a players' uniforms so a GPS device can actually measure their speed in miles per hour. Right, the NFL has gone NHRA.
In Beathard's days as an evaluator, scouts collected 40-yard sprint times, measurements in the vertical jump and standing broad jump and a variety of drills that reflect lateral agility. They still do. Beathard didn't ignore that data, but neither did he live by it. He trusted his eyes, input from trusted colleagues and, well, anything he found useful. He had a network of friends whose input he trusted, to a degree.
But in the end, Beathard said, "I trust my own instinct."
"Bobby Beathard changed the way people looked at players," veteran football writer Clark Judge said in a 2022 interview. "It wasn't just the measurables. He had intuition and he would take chances on people others would not."
How can you quantify that? Look at his results.
A story in the Washington Post tried to sum it up, pointing out that, while with Washington, he used the team's first-round pick only three times. The 1983 Super Bowl championship team included 26 free agents signed by Beathard.
"Bobby could look beyond a 4.4 time or a 39-inch vertical jump and tell you if the guy was a player," former all-pro Los Angeles Rams running back and friend Jon Arnett told Sports Illustrated in 1988. "Any scout can clock or take a tape and measure a jump, which is what 90 percent of them do. All of us knew Bobby would find the real competitive guys, because he was so competitive himself."
In the 1981 draft, Beathard plucked future Pro Bowlers such as guard Russ Grimm, defensive pass rusher Dexter Manley and wide receiver Charlie Brown in later rounds. That same year, he signed the undrafted lineman Joe Jacoby, who earned four Pro Bowl selections.
When he did use his first-round pick, Beathard selected receiver Art Monk and cornerback Darrell Green, both Hall of Famers, and Pro Bowl offensive tackle Mark May. May, Grimm and Jacoby were key members of the renowned "Hogs" offensive line that became one of the best in NFL history.
Asked about his intuition, Beathard told the Canton (Ohio) Repository: "Even in college I seemed to have a feel for who the really good players on our team were. Whether it was loving the game, playing it, watching it. I don't know what it was."
Beathard moved to the San Diego Chargers after the 1988 season, but Washington won another Super Bowl in 1992 with a roster full of players selected by Beathard. He built the Chargers only Super Bowl team, which lost the 1995 game.
Beathard was introduced for his Hall of Fame induction by Joe Gibbs, the former Chargers assistant and Washington head coach who was himself installed into the HOF two decades earlier.
"In the NFL, you're measured by Super Bowls," Gibbs said. "The bottom line was, if you hired Bobby Beathard, you got Super Bowls."
Still, for all his success, Beathard is also remembered as the guy who, with the second pick of 1998, selected quarterback Ryan Leaf, who is in a mythical competition with quarterback JaMarcus Russell, the Raiders No. 1 overall pick in 1997, as the biggest draft bust in NFL history.
In all fairness, the Indianapolis Colts used the first pick in 1998 to take Peyton Manning, so we aren't sure which player Beathard would have taken if he had a choice. That said, there was a lot of chatter comparing strong-armed Leaf with Brett Favre. Leaf's life and career spiraled into a world of addiction and crime with a couple of personal comebacks, but never on the field.
"During my career I've never seen a player that had so much talent do so little with it," Beathard told ESPN, regarding Leaf.
To hear Beathard talk about evaluating players it seems he wishes he could have been judged in a manner similar to how he does it himself. He pointed out that Washington didn't really give him a shot as a player because he was only 5-9.
"But they went with Eddie LeBaron, who was only 5-7, regardless of what the roster said," Beathard insisted. "So how can you tell unless you take an honest look?"
At El Segundo High, Beathard was a fast-footed single wing tailback (that era's version of today's quarterback). At Cal Poly he started at quarterback and defensive back in 1957 and 1958, with a 9-1 record each year. His younger brother, Pete, led USC to a National Championship in 1962, was a No. 2 overall pick in 1964 and played pro football 11 years.
"Yeah, he was six-foot-two," Beathard said with a chuckle. "I wasn't."
But Bobby did something Pete didn't. He made the Pro Football Hall of Fame. He and Madden realized their dream of being successful in pro football, even if it wasn't the way they envisioned while chatting as college roommates.
And when I learned of his passing, I immediately thought that they were together again, roommates in the Hall of Fame. OK, technically they have been so since Beathard followed Madden into the Hall of Fame in 2018. But Beathard's passing put a point on it.
Madden is the one that revealed during his induction in 2007 that each night when they turn out the lights at the Hall of Fame, "I believe the busts talk to each other. . . . That's what I believe. That's what I think is going to happen, and no one's ever going to talk me out of that."
Madden passed in December 2021 and his bust was there on January 30, re-united with his roommate of 66 years earlier. I can hear them laughing, calling out "mas caliente."
---
Other Recent Stories
Frank discussion on top QB prospects with Panthers head coach: Is it revealing?
   With all eyes on the NFL Draft that begins April 27, Carolina Panthers head coach Frank Reich is On The Clock with the first pick in the 2023 player lottery. ...
read the full story
Shh, listen: Hear the NFL's quarterback frenzy getting even crazier
  The NFL's hyperactive quarterback scene was turbocharged the last two days at the Owners Meeting in Phoenix and elsewhere, not only by what was said, but by what ...
read the full story
Pro Day tracker for top 2023 quarterbacks
Despite reservations about the realistic value of Pro Day shows, NFLDraftScout.com dutifully tracks these hyped events for your edification. For our perspective ...
read the full story
Pro Daze: NFL's annual traveling circus is less than advertised
Updated March 30, 2023    Etiquette probably dictates that some subjects should be introduced by first saying, with all due respect.     So, there it is.     Now. ...
read the full story
Top DT Jalen Carter pleas no contest, limits legal exposure
Jalen Carter, NFLDraftScout.com's top-rated defensive tackle in the 2023 draft, pleaded no contest Thursday to misdemeanor charges of reckless driving and racing, ...
read the full story
Latest Player Notes
Ohio State Mitchell Melton
Mar 09, 2023: Defensive lineman Mitchell Melton has been medically cleared to participate in individual drills for Ohio State during spring ... read full note
Texas Quinn Ewers
Mar 09, 2023: Every position is open for the Texas Longhorns this spring. Every player will earn his starting role. For that reason, Quinn ... read full note
Texas Tech Cade Briggs
Mar 09, 2023: Backup offensive lineman Cade Briggs, who played in two games last season, was removed from the Texas Tech roster on Tuesday. ... read full note
Washington Dylan Morris
Mar 09, 2023: Dylan Morris came under heavy criticism as the starting quarterback for the Washington Huskies during their 4-8 season in ... read full note
South Florida Gerry Bohanon
Mar 09, 2023: Almost three months to the day after his hiring, new USF coach Alex Golesh staged the first spring practice of his tenure ... read full note
Washington Edefuan Ulofoshio
Mar 10, 2023: On the first day of his last year of college football, Edefuan Ulofoshio was back in the middle of it all Monday morning ... read full note
Washington State Isaiah Paul
Mar 10, 2023: Two months after joining Washington State's football team, Isaiah Paul is heading back to the portal. The senior linebacker, ... read full note
Southern California Eric Gentry
Mar 10, 2023: Linebacker Eric Gentry will miss all of spring practice following ankle surgery last month, Riley said. Gentry suffered a ... read full note
Ohio State Jack Sawyer
Mar 07, 2023: Where is Jack Sawyer? The former five-star recruit never really took that Year 2 jump some may have anticipated. His raw ... read full note
Colorado Cormani McClain
Mar 07, 2023: Getting two of the best young cornerbacks in the country to come to Boulder was the first step. Now, the Colorado coaches ... read full note