NFL Announces 37 Compensatory Draft Choices to 16 Clubs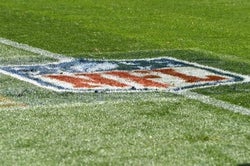 Sep 17, 2017; Denver, CO, USA; General view of a NFL emblem on Sports Authority Field at Mile High before the game between the Dallas Cowboys against the Denver Broncos. Mandatory Credit: Ron Chenoy-USA TODAY Sports
A total of 37 compensatory draft selections in the 2023 NFL Draft have been awarded to 16 teams, the NFL announced today.
Under the rules for compensatory draft selections, a team losing more or better compensatory free agents ("CFA") than it acquires in the previous year is eligible to receive compensatory draft picks.
The compensatory picks will be positioned within the third through seventh rounds based on the value of the compensatory free agents lost.
Compensatory free agents are determined by a formula based on salary, playing time and postseason honors. The formula was developed by the NFL management council. Not every free agent lost or signed by a club is covered by this formula. Clubs that suffer a net loss of CFAs during the prior free agent signing period are eligible to receive a corresponding number of compensatory selections. In addition, a club that lost the same number of CFAs that it gained (no net loss), may be eligible to receive a selection at the end of round seven based on the value of the CFAs lost versus the value of the CFAs gained. No club may receive more than four compensatory picks in any one year. If a club qualifies for more than four compensatory picks after offsetting each CFA lost by each CFA gained of an equal or higher value, the four highest remaining selections will be awarded to the club.
The Collective Bargaining Agreement stipulates if in any League Year the number of compensatory selections awarded is less than the number of clubs then in the League (32), an additional number of selection choices shall be awarded to clubs based upon draft selection order ("Supplemental Selections"). This year, thirty compensatory selections were awarded to thirteen clubs based upon the netting formula described above. Two clubs, Chicago and Houston, will be awarded Supplemental Selections.
In addition to the 30 compensatory selections awarded under the net loss formula and the two Supplemental Selections, five special compensatory selections were awarded to three clubs: the Cleveland Browns, San Francisco 49ers (three special compensatory selections), and Kansas City Chiefs under a 2020 amendment to the League's Collective Bargaining Agreement, which was agreed upon by the NFL and the NFLPA to promote equal employment opportunities and an inclusive workforce within NFL clubs. This initiative provides that the prior employer-club of a minority employee who has been hired by another club as its head coach or primary football executive (general manager) will receive compensation in the form of a special compensatory draft selection in the third round of each of the next two drafts, or in each of the next three drafts if two minority employees from the employer-club are hired for these positions by another club or clubs. Special compensatory selections are awarded in draft selection order after all other compensatory selections in round three and are denoted with an asterisk in the following table.
The following 2023 compensatory draft picks have been awarded for the 2023 NFL Draft, which will be held on April 27-April 29 in Kansas City:
Round Round Choice/
Overall Selection Team
3 33-96 Arizona
3 34-97 Washington
3 35-98* Cleveland
3 36-99* San Francisco
3 37-100* Kansas City
3 38-101* San Francisco
3 39-102* San Francisco
4 33-135 New England
5 33-167 Los Angeles Rams
5 34-168 Arizona
5 35-169 Dallas
5 36-170 Green Bay
5 37-171 Los Angeles Rams
5 38-172 New York Giants
5 39-173 San Francisco
5 40-174 Las Vegas
5 41-175 Tampa Bay
5 42-176 Dallas
5 43-177 Los Angeles Rams
6 33-210 New England
6 34-211 Minnesota
6 35-212 Dallas
6 36-213 Arizona
6 37-214 Las Vegas
6 38-215 Washington
6 39-216 San Francisco
6 40-217 Kansas City
7 33-250 Kansas City
7 34-251 Los Angeles Rams
7 35-252 Tampa Bay
7 36-253 San Francisco
7 37-254 New York Giants
7 38-255 San Francisco
7 39-256 Green Bay
7 40-257 New Orleans
7 41-258 Chicago
7 42-259 Houston
The compensatory free agents lost and gained in 2022 by the clubs that will receive compensatory picks in the 2023 Draft:
ARIZONA Lost: Edmonds, Chase; Jones, Chandler; Kirk, Christian
Gained:
DALLAS Lost: Gregory, Randy; Williams, Connor; Wilson, Cedrick
Gained:
GREEN BAY Lost: Patrick, Lucas; Sullivan, Chandon; Valdes-Scantling, Marquez
Gained: Reed, Jarran
KANSAS CITY CHIEFS Lost: Blythe, Austin; Ingram, Melvin; Pringle, Byron; Reed, Jarran;
Ward, Charvarius
Gained: Reid, Justin; Smith-Schuster, JuJu; Valdes-Scantling, Marquez
LOS ANGELES RAMS Lost: Corbett, Austin; Joseph, Sebastian; Miller, Von; Okoronkwo, Ogbonnia; Williams, Darious
Gained: Robinson, Allen
LAS VEGAS Lost: Facyson, Brandon; Hayward, Casey; Jefferson, Quinton; Jones, Zay;
Mariota, Marcus; Morrow, Nicholas
Gained: Averett, Anthony; Hollins, Mack; Jones, Chandler; Nichols, Bilal
MINNESOTA Lost: Cole, Mason; Conklin, Tyler; Woods, Xavier
Gained: Phillips, Harrison; Sullivan, Chandon
NEW ENGLAND Lost: Jackson, J.C.; Karras, Ted
Gained:
NEW ORLEANS Lost: Armstead, Terron; Williams, Marcus
Gained: Dalton, Andy; Maye, Marcus
NEW YORK GIANTS Lost: Carter, Lorenzo; Crossen, Keion; Engram, Evan; Johnson, Austin
Gained: Glowinski, Mark; Taylor, Tyrod
SAN FRANCISCO Lost: Jones, D.J.; Key, Arden; Mostert, Raheem; Tomlinson, Laken;
Williams, K'Waun
Gained: Ward, Charvarius
TAMPA BAY Lost: Cappa, Alex; Howard, O.J.; Whitehead, Jordan
Gained: Gage, Russell
WASHINGTON Lost: Scherff, Brandon; Settle, Tim
Gained:
2023 NFL COMPENSATORY DRAFT PICKS*
Los Angeles Rams 4
San Francisco 4
Arizona 3
Dallas 3
Green Bay 2
Kansas City 2
Las Vegas 2
New England 2
New York Giants 2
Tampa Bay 2
Washington 2
Minnesota 1
New Orleans 1
TOTAL 30
*Does not include special compensatory selections
SUMMARY OF COMPENSATORY DRAFT PICKS, 1994-2023*
Baltimore 55
Dallas 52
Green Bay 49
New England 48
Los Angeles Rams 47
San Francisco 39
Philadelphia 37
Cincinnati 35
Pittsburgh 35
Tennessee 33
Arizona 32
Seattle 32
Kansas City 30
New York Giants 30
Buffalo 28
Minnesota 28
Atlanta 25
Indianapolis 25
Los Angeles Chargers 25
Denver 24
Detroit 24
Tampa Bay 24
Las Vegas 23
Miami 22
Chicago 21
Carolina 20
Houston 19
Jacksonville 19
Washington 19
New Orleans 14
New York Jets 14
Cleveland 13
TOTAL 941
*Does not include special compensatory selections
---
Other Recent Stories
Frank discussion on top QB prospects with Panthers head coach: Is it revealing?
   With all eyes on the NFL Draft that begins April 27, Carolina Panthers head coach Frank Reich is On The Clock with the first pick in the 2023 player lottery. ...
read the full story
Shh, listen: Hear the NFL's quarterback frenzy getting even crazier
  The NFL's hyperactive quarterback scene was turbocharged the last two days at the Owners Meeting in Phoenix and elsewhere, not only by what was said, but by what ...
read the full story
Pro Day tracker for top 2023 quarterbacks
Despite reservations about the realistic value of Pro Day shows, NFLDraftScout.com dutifully tracks these hyped events for your edification. For our perspective ...
read the full story
Pro Daze: NFL's annual traveling circus is less than advertised
Updated March 30, 2023    Etiquette probably dictates that some subjects should be introduced by first saying, with all due respect.     So, there it is.     Now. ...
read the full story
Top DT Jalen Carter pleas no contest, limits legal exposure
Jalen Carter, NFLDraftScout.com's top-rated defensive tackle in the 2023 draft, pleaded no contest Thursday to misdemeanor charges of reckless driving and racing, ...
read the full story
Latest Player Notes
Ohio State Mitchell Melton
Mar 09, 2023: Defensive lineman Mitchell Melton has been medically cleared to participate in individual drills for Ohio State during spring ... read full note
Texas Quinn Ewers
Mar 09, 2023: Every position is open for the Texas Longhorns this spring. Every player will earn his starting role. For that reason, Quinn ... read full note
Texas Tech Cade Briggs
Mar 09, 2023: Backup offensive lineman Cade Briggs, who played in two games last season, was removed from the Texas Tech roster on Tuesday. ... read full note
Washington Dylan Morris
Mar 09, 2023: Dylan Morris came under heavy criticism as the starting quarterback for the Washington Huskies during their 4-8 season in ... read full note
South Florida Gerry Bohanon
Mar 09, 2023: Almost three months to the day after his hiring, new USF coach Alex Golesh staged the first spring practice of his tenure ... read full note
Washington Edefuan Ulofoshio
Mar 10, 2023: On the first day of his last year of college football, Edefuan Ulofoshio was back in the middle of it all Monday morning ... read full note
Washington State Isaiah Paul
Mar 10, 2023: Two months after joining Washington State's football team, Isaiah Paul is heading back to the portal. The senior linebacker, ... read full note
Southern California Eric Gentry
Mar 10, 2023: Linebacker Eric Gentry will miss all of spring practice following ankle surgery last month, Riley said. Gentry suffered a ... read full note
Ohio State Jack Sawyer
Mar 07, 2023: Where is Jack Sawyer? The former five-star recruit never really took that Year 2 jump some may have anticipated. His raw ... read full note
Colorado Cormani McClain
Mar 07, 2023: Getting two of the best young cornerbacks in the country to come to Boulder was the first step. Now, the Colorado coaches ... read full note