2023 NFL Draft Review: Comments, bios on all selections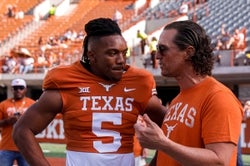 Texas running back Bijan Robinson talks to actor and UT alum Matthew McConaughey before Texas annual spring football game at Royal Memorial Stadium in Austin, Texas on April 23, 2022. Aem Texas Spring Football 2022 5
2023 NFL Draft: Pick by Pick
4 digit height: 1st = feet; 2nd/3rd = Inches; 4th = Eighths of inch
Pick-Rd, Team, First Name, Last Name, Position, School, Ht., Wt., 40 Time
1 - 1 Panthers *Bryce Young, QB, Alabama, 5101, 204, 4.58
As predicted by most. Now the undersized magician must show he can pull the rabbit out of the hat against NFL defenses intent on squishing him like a bug.
2 - 1 Texans *C.J. Stroud, QB, Ohio State, 6030, 214, 4.74
Texans could have traded to acquire more picks for their anemic roster, but opted for Stroud, our top-rated quarterback, and then. . .
3 - 1 Texans *Will Anderson Jr., DE, Alabama, 6034, 253, 4.60
Great trade up top get Anderson, who was the top edge player on most lists. Now he will be asked to be more productive in the NFL than he was in college.
4 - 1 Colts *Anthony Richardson, QB, Florida, 6042, 244, 4.43
Swinging for the fences, the Colts grabbed a phenomenal athlete who now must show he can become a good quarterback. Big leap to NFL after only 13 college games.
5 - 1 Seahawks Devon Witherspoon, CB, Illinois, 5114, 181, 4.45
Big payoff for a guy who was a no-star prep recruit and then showed aggressiveness that frustrated receivers—but drew penalty flags.
6 - 1 Cardinals *Paris Johnson Jr., OT, Ohio State, 6063, 313, 5.12
Looked good in 13 games at left tackle last year and might help keep Cardinals quarterback Kyler Murray upright and healthy.
7 - 1 Raiders Tyree Wilson, DE, Texas Tech, 6055, 271, 4.76
With wingspan of a two-car garage, Wilson should team with Maxx Crosby to bedevil the AFC West's list of dangerous quarterbacks: Patrick Mahomes, Justin Herbert and, looking for a bounce-back year, Russell Wilson.
8 - 1 Falcons *Bijan Robinson, RB, Texas, 5110, 215, 4.46
His tremendous talent as a rusher, receiver will change the outdated theory that running backs should be devalued. He can control games. Early candidate for Offensive Rookie of Year.
9 - 1 Eagles *Jalen Carter, DT, Georgia, 6030, 323, 4.83
The rich get richer with Carter, possibly the best athlete in the draft at any position. Eagles must keep him focused on football after a problematic off-season off the field.
10 - 1 Bears Darnell Wright, OT, Tennessee, 6053, 333, 5.01
Mean-spirited offensive lineman who played all over the front in college but looked better at right tackle and right guard more than at the prized left tackle position.
11 - 1 Titans *Peter Skoronski, OG, Northwestern, 6040, 313, 5.16
This athletic beast started in 33 straight games at left tackle, but with short arms (32 1/4 inches) looks like a plug-and-play at NFL guard.
12 - 1 Lions *Jahmyr Gibbs, RB, Alabama, 5091, 199, 4.36
Two in top 12 indicates that some NFL realize that RBs still bring major value. Gibbs blistering speed (4.36 40) means he can score from anywhere.
13 - 1 Packers *Lukas Van Ness, DE, Iowa, 6050, 272, 4.58
Next game he starts will be first since high school as he came off bench in all 27 college games, but devoured blockers in an animalistic manner.
14 - 1 Steelers *Broderick Jones, OT, Georgia, 6053, 313, 4.97
Another star at left tackle in college, but could be a menace at guard immediately.
15 - 1 Jets Will McDonald IV, DE, Iowa State, 6035, 239, 4.70
Surprisingly high pick of a guy who didn't even watch football until junior year of high school, but had 34 college sacks. Still learning to harness his athleticism.
16 - 1 Commanders *Emmanuel Forbes, CB, Mississippi State, 6006, 170, 4.35
In a cornerback-heavy draft, Forbes was my personal favorite. A skinny terror (166-170 pounds) with larceny in his heart: FBS record six pick-sixes in three seasons, eight in four years (counting high school).
17 - 1 Patriots *Christian Gonzalez, CB, Oregon, 6013, 197, 4.38
Can start as a rookie in a division full of great quarterbacks.
18 - 1 Lions Jack Campbell, ILB, Iowa, 6045, 249, 4.65
Coach Dan Campbell got another "knee biter" with this athletic thumper who was expected to be a mid-second round pick.
19 - 1 Bucs *Calijah Kancey, DT, Pittsburgh, 6010, 281, 4.67
He dislikes the comparison, but Kancey looks like the second coming of Aaron Donald in terms of size and athleticism, including blink-quick first step and 40-yard time of 4.67 seconds at 281 pounds.
20 - 1 Seahawks *Jaxon Smith-Njigba, WR, Ohio State, 6005, 196, 4.52
Interesting addition to a team with excellent wide receivers. Was rated best of so-so receiver class. Probably a slot player.
21 - 1 Chargers *Quentin Johnston, WR, Texas Christian, 6026, 212, 4.52
Another addition to a talented wide receiver room, meaning another target for quarterback Justin Herbert on those fourth-down gambles.
22 - 1 Ravens Zay Flowers, WR, Boston College, 5092, 182, 4.42
Curiously, Flowers made late climb in ratings on many lists the last couple of weeks, after we locked him at No. 51. Compared to feisty Steve Smith Sr., one of our all-time favorites.
23 - 1 Vikings *Jordan Addison, WR, Southern California, 5111, 173, 4.49
Biletnikoff winner at Pitt in 2021 who transferred to USC last season and wasn't on his game the entire year. Nifty, but small.
24 - 1 Giants *Deonte Banks, CB, Maryland, 6001, 203, 4.35
Maybe the only corner to have a good game against OSU's Marvin Harrison Jr. With great attitude and 40-yard time of 4.35 seconds, Banks is one of several CBs who will start as rookie.
25 - 1 Bills Dalton Kincaid, TE, Utah, 6035, 246, 4.63
Look out AFC East. The pick of Kincaid gives quarterback Josh Allen yet another target. Kincaid's receiving yards and 35 touchdowns were career bests among active tight ends last season.
26 - 1 Cowboys *Mazi Smith, DT, Michigan, 6030, 323, 4.96
Upon further review, we underrated Smith at 52 overall. Two-year starter is on the ascent and can create havoc all long tine interior defensive line.
27 - 1 Jaguars *Anton Harrison, OG, Oklahoma, 6043, 315, 4.98
Not sure where he will play after lining up in college at RT 27 times, LT 13 and RG twice. Regardless, he will help quarterback Trevor Lawrence and running back Travis Etienne.
28 - 1 Bengals *Myles Murphy, DE, Clemson, 6046, 268, 4.53
Should fit best as base end. Power rusher who will need to add finesse and should start as a rookie.
29 - 1 Saints *Bryan Bresee, DT, Clemson, 6054, 302, 4.86
Outstanding talent, but last season Bresee battled through injuries and the emotional trauma of losing his younger sister to brain cancer.
30 - 1 Eagles Nolan Smith, OLB, Georgia, 6022, 238, 4.39
With DT Jalen Carter (No. 8 overall), the Eagles snagged two of the best athletes in the first round. Smith ran 40 yards in 4.39 seconds at Indy Combine and will be a major menace to opposing QBs. Hard to believe he lasted this long.
31 - 1 Chiefs *Felix Anudike-Uzomah, DE, Kansas State, 6031, 255, 4.73
This was our lowest ranked player (76) taken in first round (31) and we were wrong. Powerful lower body, huge wingspan and strong hands. Should play plenty as rookie along the interior DL.
32 - 2 Steelers *Joey Porter Jr., CB, Penn State, 6024, 198, 4.46
The son of the former Steeler great, Porter Jr. is an aggressive cover man who will need to cut down on his penalties to be a top-quality NFL corner.
33 - 2 Titans Will Levis, QB, Kentucky, 6037, 229, 4.70
Levis fell further than expected, likely because of concerns about his mechanics and '22 game tape. Still, the physical gifts the strong-armed, charismatic Levis brings to the table are undeniable, and Tennessee seems like a favorable landing spot.
34 - 2 Lions Sam LaPorta, TE, Iowa, 6032, 245, 4.59
Going earlier than we expected, LaPorta makes sense for a Lions team looking to fill the hole created last season by the trade of T.J. Hockenson. Needs to improve his blocking but has the potential to be a solid receiving option in the pros.
35 - 2 Raiders *Michael Mayer, TE, Notre Dame, 6044, 249, 4.70
Mayer has the size, strength, smarts and intensity to succeed at the next level. His basketball background and sure hands should make him a reliable third-down receiver.
36 - 2 Rams Steve Avila, OG, Texas Christian, 6034, 332, 5.21
Avila will be asked to help stabilize an interior offensive line that put QB Matthew Stafford's welfare in jeopardy in 2022. The powerful Avila should be a plug-and-play guard with the versatility to play center if called upon.
37 - 2 Seahawks Derick Hall, OLB, Auburn, 6026, 254, 4.55
Long, athletic pass rusher with an engine that stays in the red. Seahawks see this four-year starter and Auburn team captain as another key piece towards restoring their Legion of Boom glory.
38 - 2 Falcons Matthew Bergeron, OT, Syracuse, 6052, 318, 5.28
They say the best ability is availability and Bergeron's 39 starts at Syracuse bodes well for a lengthy NFL career. Shorter arms explain why the Falcons plan to switch him from tackle to guard, but his strengths as a run-blocker should make the transition a smooth one.
39 - 2 Panthers Jonathan Mingo, WR, Mississippi, 6016, 220, 4.46
His mechanics and route-running need coaching up, but Mingo's impressive combination of size and speed had him shooting up draft boards.
40 - 2 Saints *Isaiah Foskey, DE, Notre Dame, 6051, 264, 4.58
The Saints look for Foskey and first-round pick Bryan Bresee to anchor their defensive front for years to come. What he presently lacks in pass-rushing skill, Foskey makes up for in high-energy pursuit.
41 - 2 Cardinals *BJ Ojulari, OLB, LSU, 6023, 248, 4.59
The grandson of a Nigerian prince, Ojulari blends the versatility, explosiveness, and flexibility off the edge to be pass-rushing royalty some day. Another prospect who gathered more and more positive attention as the draft approached.
42 - 2 Packers Luke Musgrave, TE, Oregon State, 6057, 251, 4.61
We had this long-striding, deceptively fast TE as a first-round talent, but injuries likely caused his stock to drop for some teams. If Musgrave stays healthy, Packer QB Jordan Love will have a new best friend.
43 - 2 Jets *Joe Tippmann, C, Wisconsin, 6060, 313, 4.97
The next QB to touch Tippmann's backside and to blast him for failing to adjust a protection will be a first-ballot Hall of Famer. (No pressure kid.) Tippmann seems to have the smarts and experience to handle whatever Rodgers and new OC Nathaniel Hackett throw at him.
44 - 2 Colts Julius Brents, CB, Kansas State, 6026, 198, 4.53
The Colts think more highly of Brents than we do, but his size, athleticism, and ball skills give him a chance of being a forceful NFL corner. Needs to improve his footwork and discipline his aggressiveness to avoid seeing a lot of yellow in the pros.
45 - 2 Lions *Brian Branch, FS, Alabama, 5115, 190, 4.58
If a Branch falls in the draft and no one is around…does it make a sound? This savvy safety dropped further than most expected, despite the fact that he has the athleticism and physicality to cover tight ends, wideouts, and slot receivers.
46 - 2 Patriots Keion White, DT, Georgia Tech, 6047, 281, 4.79
Though a bit older of a prospect, this 24-year-old converted tight end brings tantalizing length and speed to the DT spot. He's a bit of a project but seems to be the type of player Belichick succeeds in turning into a productive NFL starter.
47 - 2 Commanders Jartavius Martin, FS, Illinois, 5110, 194, 4.46
Martin boasts the versatility to play all over the back end and is a dependable tackler. Along with first-round pick Emmanuel Forbes, Washington seems intent on remaking its secondary into a unit as formidable as its defensive front.
48 - 2 Bucs Cody Mauch, OG, North Dakota State, 6050, 302, 5.08
Mauch dominated as a Division II offensive tackle, though Tampa will move him inside. So, while not as sexy a pick as a left tackle — not, that is, until you see him smile — this selection shows the Bucs know they need to strengthen an OL that drove Tom Brady into retirement.
49 - 2 Steelers Keeanu Benton, DT, Wisconsin, 6036, 309, 5.08
Showed himself adept at playing at various spots along the Badgers' DL. Expect Mike Tomlin and Teryl Austin, Pittsburgh's first-year defensive coordinator, to make full use of Benton's versatility and instincts to maul.
50 - 2 Packers Jayden Reed, WR, Michigan State, 5107, 191, 4.45
We had a number of receivers rated ahead of him — Josh Downs anyone? — though Reed did flash big-play capability while at East Lansing. The Packers, as do some, likely envision Reed as a slot receiver who can double as a returner.
51 - 2 Dolphins *Cam Smith, CB, South Carolina, 6006, 180, 4.43
A good-size corner with excellent vision, Smith could thrive in off and zone coverages. But his average speed and stiff mechanics will make it difficult for him to play press coverage consistently.
52 - 2 Seahawks Zach Charbonnet, RB, UCLA, 6003, 222, 4.53
With needs elsewhere and last year's rookie RB Kenneth Walker on the rise, Seattle drew some heat for this pick, but the 'Hawks like Charbonnet's physical running style and receiving ability. He might make an immediate impact coming out of the backfield on third down.
53 - 2 Bears *Gervon Dexter, DT, Florida, 6055, 318, 4.88
The massive Dexter presently lacks the get-off and hand skills to be a consistent pass-rushing force, but, as a 3-technique, he should be a disruptive run defender.m,
54 - 2 Chargers *Tuli Tuipulotu, DE, Southern California, 6030, 266, 4.86
Though he doesn't sport the long arms you'd like to see in an edge rusher, the former USC standout is athletic, relentless, and productive, and projects to be a terrific complement to Joey Bosa and Khalil Mack.
55 - 2 Chiefs Rashee Rice, WR, Southern Methodist, 6005, 204, 4.51
His average speed and a limited route tree at SMU had some draft experts questioning the fit in an Andy Reid offense. But Rice possesses the YAC and ball skills to emerge down the road as one of Patrick Mahomes' favorite targets.
56 - 2 Bears Tyrique Stevenson, CB, Miami, 6003, 198, 4.45
Stevenson's tape shows an athletic corner who struggled with consistency as both a run and pass defender. He needs coaching up to maximize his impressive physical gifts.
57 - 2 Giants John Michael Schmitz, C, Minnesota, 6034, 301, 5.35
The well-regarded Schmitz is light on his feet and skilled enough to both neutralize D-lineman and get to the next level of the defense. Expect him to step in right away and anchor the interior of the Giants' OL for several years.
58 - 2 Cowboys Luke Schoonmaker, TE, Michigan, 6052, 251, 4.63
With Dalton Schultz gone, the Cowboys needed a TE to give Dak Prescott a middle-of-the-field option. Not only does Schoonmaker present a capable downfield threat, he is a reliable blocker who'll help Tony Pollard turn the corner.
59 - 2 Bills O'Cyrus Torrence, OG, Florida, 6053, 330, 5.31
At the very least, the Bills need the imposing Torrence to be an immediate road-grader in the run game—and eventually develop into a stout pass-blocker to protect Josh Allen. Buffalo satisfies a need while getting great value at the pick.
60 - 2 Bengals *DJ Turner, CB, Michigan, 5112, 178, 4.26
The newest addition to the new-look Bengals' secondary, Turner merges wicked speed (4.26 at Indy) and a combative attitude to play bigger than his listed size.
61 - 2 Jaguars *Brenton Strange, TE, Penn State, 6037, 253, 4.70
His low production at Penn State belies Strange's noticeable physical tools, especially his talent at powering through tacklers after the catch. Having Strange and incumbent TE Evan Engram working the middle of the field will help QB Trevor Lawrence continue his ascent.
62 - 2 Texans Juice Scruggs, C, Penn State, 6032, 305, 5.22
What had been to this point a terrific draft for Houston may have hit a speed bump with this reach of a pick. Scruggs has the smarts to play center in the NFL but he's an average athlete who has struggled with injuries.
63 - 2 Broncos *Marvin Mims Jr., WR, Oklahoma, 5107, 183, 4.38
Though other team needs went unmet with this selection, Mims' speed and receiving skills can't be disputed. The pick feels like Sean Peyton announcing to the NFL just how wide open of an offense he intends to run.
64 - 3 Bears Zacch Pickens, DT, South Carolina, 6037, 298, 4.89
Pickens plays like a madman, is a fluid athlete, but will need coaching and reps to upgrade into a quality NFL starter.
65 - 3 Eagles Tyler Steen, OT, Alabama, 6060, 321, 5.26
The ex-Tide tackle is versatile enough to play both tackle and guard in the NFL, and the Eagles likely will move him inside. With Andre Dillard gone and Lane Johnson getting older, this makes sense as a project pick.
66 - 3 Eagles Sydney Brown, SS, Illinois, 5096, 211, 4.47
Brown is an experienced, physical in-the-box safety, with excellent ball skills, as his six INTs in 2022 attest. Should get a chance to compete for a starting job following the departure of C.J. Gardner-Johnson.
67 - 3 Broncos *Drew Sanders, OLB, Arkansas, 6043, 235, 4.66
Resisting the temptation to draft another wideout, the Broncos go for the first-team All-American Sanders, who runs well and has a nose for the ball. Broncos will pair him on the inside with Josey Jewell.
68 - 3 Lions Hendon Hooker, QB, Tennessee, 6032, 217, 4.62
Hooker went much later than he should have because of a late 2022 knee injury, but the lining in that uncomfortable wait is colored Lions' silver. Hooker has everything you want in a QB—size, arm strength, and leadership.
69 - 3 Texans Nathaniel Dell, WR, Houston, 5083, 165, 4.49
The homegrown Dell may be small but he possesses speed and quickness aplenty, and should be a hellish threat from the slot.
70 - 3 Raiders Byron Young, DT, Alabama, 6033, 294, 5.03
An experienced 2-gap player and stout run-stuffer who will bring toughness and leadership to Raiders defensive front.
71 - 3 Saints *Kendre Miller, RB, Texas Christian, 5111, 215, 4.42
Not all that elusive but a tough inside runner who went higher than we thought he'd go. Look for him to complement Alvin Kamara.
72 - 3 Cardinals *Garrett Williams, CB, Syracuse, 5103, 192, 4.42
A bit on the small side and injured, Williams is still athletic and instinctive enough to carve out a solid NFL career.
73 - 3 Giants *Jalin Hyatt, WR, Tennessee, 6001, 184, 4.40
Skilled wideout whose speed and acceleration will help take the top off defenses for QB Daniel Jones.
74 - 3 Browns Cedric Tillman, WR, Tennessee, 6033, 213, 4.54
Tougher-than-hell receiver who doesn't have blazing speed but will bail out his QB by making contested catches. Could be a productive red-zone threat.
75 - 3 Falcons Zach Harrison, DE, Ohio State, 6054, 269, 4.72
A good selection at this spot. Harrison may never develop into an elite edge performer, but we expect him to become a fixture in the Atlanta defense.
76 - 3 Patriots Marte Mapu, OLB, Sacramento State, 6030, 221, 4.67
Belichick caught us off guard with this selection. Mapu is a tough, heady player who led his team to a stellar record in 2022.
77 - 3 Rams Byron Young, OLB, Tennessee, 6023, 250, 4.40
The widespread post-draft opinion is that Young is too old (25) and went a round or two early. But he's a physical and quick defender who still seems poised for a promising NFL career.
78 - 3 Packers *Tucker Kraft, TE, South Dakota State, 6046, 254, 4.69
The Packers are stacking TEs in this draft to meet the team's biggest need. Kraft has the frame and body control to develop into a very capable receiving threat in the pros.
79 - 3 Colts *Josh Downs, WR, North Carolina, 5086, 171, 4.48
Shifty and fast, Downs is also a competitor who plays bigger than his 171 pounds. Those traits give him a chance to be a top-notch NFL slot receiver.
80 - 3 Panthers DJ Johnson, DE, Oregon, 6040, 260, 4.49
A stunning athlete who played all over the Ducks' defense. Could develop into something special if Carolina can find a specific position for him and keep him there.
81 - 3 Titans *Tyjae Spears, RB, Tulane, 5095, 201, 4.54
Spears could be a steal here. Showcases balance and speed, and promises to be an excellent complement to the powerful Derrick Henry.
82 - 3 Bucs YaYa Diaby, DE, Louisville, 6033, 263, 4.51
A late-bloomer at Louisville, Diaby could mature into a force coming off the edge. Struggles a bit diagnosing plays, but Tampa still has reason to be excited about his potential.
83 - 3 Broncos Riley Moss, CB, Iowa, 6005, 193, 4.45
Fast, big and experienced, Moss can play corner and safety, and that versatility is where his value lies.
84 - 3 Dolphins *Devon Achane, RB, Texas A&M, 5084, 188, 4.32
A blazing offense just got faster with the addition of Achane. We see him as a key component in Miami's RB-by-committee approach.
85 - 3 Chargers Daiyan Henley, ILB, Washington State, 6007, 225, 4.54
An undersized but fleet-footed prospect, this converted tight end offers every-down versatility. He could also turn into a special teams demon.
86 - 3 Ravens *Trenton Simpson, OLB, Clemson, 6023, 235, 4.43
As they did with Brian Branch, the Ravens nab a player projected to go higher than they did. Tremendous athlete who flies to the ball.
87 - 3 49ers Ji'Ayir Brown, SS, Penn State, 5113, 203, 4.65
A tough and productive run-stopping safety with average speed, Brown could be viewed as another Talanoa Hufanga, which isn't necessarily a bad thing. However, whether Tashaun Gipson will be the long-term replacement for the departed free safety Jimmie Ward remains a question.
88 - 3 Jaguars *Tank Bigsby, RB, Auburn, 5115, 215, 4.56
An explosive, patient runner, the aptly named Bigsby finishes off his runs with the best of them. Will be a great complement to incumbent RB Travis Etienne.
89 - 3 Rams Kobie Turner, DT, Wake Forest, 6024, 293, 5.09
Turner is an undersized but experienced playmaker who led Wake Forest in forced fumbles despite not starting. Age and size probably limits his upside in the NFL.
90 - 3 Cowboys DeMarvion Overshown, OLB, Texas, 6025, 229, 4.56
An energetic, at times frenetic, 'backer who has to overcome a smaller frame and injury history if he's to have a productive NFL career.
91 - 3 Bills Dorian Williams, OLB, Tulane, 6010, 228, 4.49
Williams has sideline-to-sideline range and is a danger coming on blitzes. As with Overshown, his size will likely be a drawback at the next level.
92 - 3 Chiefs Wanya Morris, OT, Oklahoma, 6053, 307, 5.10
Poor OL play has usually been the culprit whenever the Mahomes-led offense struggles. The Chiefs hope the long-armed and nimble Morris will bolster an improving unit.
93 - 3 Steelers *Darnell Washington, TE, Georgia, 6065, 272, 4.64
A tremendous physical presence in the middle of the football field, the 6-7 Washington is a force both as a blocker and a receiver. He could be the player in this draft that a number of teams regret passing on.
94 - 3 Cardinals Michael Wilson, WR, Stanford, 6017, 213, 4.58
A big, fluid route-runner and quality leader who could be a solid fallback should Arizona part with DeAndre Hopkins.
95 - 3 Bengals Jordan Battle, SS, Alabama, 6010, 209, 4.55
A well-named prospect, this safety is physical, durable, with loads of experience in high-pressure games.
96 - 3 Lions Brodric Martin, DT, Western Kentucky, 6046, 330, 5.36
Likely doesn't have the explosiveness off the snap to star in the NFL, but Martin's a forceful presence who has the reach and overall power to demand the occasional double-team.
97 - 3 Commanders Ricky Stromberg, C, Arkansas, 6032, 306, 5.26
A lot to like about Stromberg—he not only stands to anchor for some time the interior of the Commanders OL, but he'll also soften fan disappointment at the eventual departure of owner Dan Snyder.
98 - 3 Browns Siaki Ika, DT, Baylor, 6027, 347, 5.39
A cement mixer drum in football cleats, the former Baylor standout is really tough to dislodge, but he also has the get-off to make plays in the opposition's backfield.
99 - 3 49ers Jake Moody, K, Michigan, 6005, 209, 5.08
A pick that inspired eye rolls in the Bay Area and rolling laughter among league observers. But, if one of the best kickers in college football turns out to be as proficient as Robbie Gould, then consider the selection a success.
100 - 3 Raiders Tre Tucker, WR, Cincinnati, 5085, 182, 4.40
A lightening-quick prospect who runs great routes and is explosive in and out of his cuts. We see Tucker as a potentially dynamic slot receiver who could right away wreak havoc on NFL secondaries.
101 - 3 49ers Cameron Latu, Alabama, TE, 6043, 242, 4.78
Salivating for a punter with this selection, GM John Lynch instead gives way to reasonableness. Latu lacks the speed and catch radius to be a formidable receiving option but he should be a nice fit in Kyle Shanahan's two-TE packages.
102 - 3 Vikings Mekhi Blackmon, Southern California, CB, 5110, 178, 4.47
The Vikings secondary needs bodies and Blackmon's blend of toughness and ball skills means he'll likely compete for a starting job somewhere on the back end.
103 - 4 Saints Nick Saldiveri, Old Dominion, OT, 6062, 318 5.21
Has the footwork and balance to wall off speed-rushers in pass protection and block defenders in space on bubble screens and running plays. May very well emerge as the best all-around tackle from this draft class.
104 - 4 Raiders Jakorian Bennett, Maryland, CB, 5105, 194, 4.30
A tough prospect to get a feel on, Bennett was productive at the collegiate level but just as often his eye-popping speed (4.30 at the combine) didn't translate into stopping opposing receivers. If the Vegas coaching staff polishes his footwork and mechanics, they may have a find.
105 - 4 Eagles *Kelee Ringo, Georgia, CB, 6016, 207, 4.36
And now a third member of college football's best defense last year trades in Georgia red and black for Eagle green. Given his impressive physical and leadership traits, Ringo's slide to the fourth round is a bit surprising.
106 - 4 Colts Blake Freeland, Brigham Young, OT, 6077, 302, 4.98
His height could prove to both a blessing and curse at the NFL level. Freeland needs a develop a stronger base to be a reliable NFL pass-protector.
107 - 4 Patriots Jake Andrews, Troy, C, 6026, 305, 5.15
A curious pick, as we had a number of centers rated higher than Andrews. But because it's Belichick, it's probably wise to take a wait-and-see approach.
108 - 4 Seahawks *Anthony Bradford, LSU, OG, 6040, 332, 5.08
Seattle continues to stock high-value picks. The powerful Bradford delivers a massive payload of nasty and has the versatility to line up at tackle or guard.
109 - 4 Texans Dylan Horton, Texas Christian, DE, 6040, 262, 4.74
A physically punishing, violent competitor at the point of attack with an impressive burst off the ball, Horton must craft some countermoves to improve his pass rush. But if he does, look out.
110 - 4 Colts Adetomiwa Adebawore, Northwestern, DE, 6015, 282, 4.49
Adebawore's measurables were off the charts, but the game film shows performance that switches between impactful and invisible as often as his name alternates consonants and vowels.
111 - 4 Dawand Jones, Ohio State, OT, 6082, 374, 5.35
Given his eye-popping presence it's hard to imagine Jones playing in someone's shadow. While he likely won't be a OL cornerstone as Paris Johnson Jr. seems ready to be, the other Buckeye tackle offers enough potential to take a fourth-round flyer on.
112 - 4 Patriots Chad Ryland, Maryland, K, 5116, 190, 4.83
Ryland has perhaps the strongest leg in the draft. But the ex-Terrapin also holds the distinction of being the only player in draft history whose last name makes up the last seven letters of the school he played for. Find another NFL draft resource that gives you that kind of critical insight.
113 - 4 Falcons *Clark Phillips III, Utah, CB, 5090, 184, 4.51
While not offering the size and length wanted for the position, the explosive Phillips nonetheless exhibits the quickness and competitive nature to mirror and disrupt slot receivers. Could be one of this draft's sleepers.
114 - 4 Panthers Chandler Zavala, OG, North Carolina State, 6034, 316, 5.23
Zavala's unlikely path from Division II player to starting guard in the ACC bodes well for him overcoming the learning curve he'll face in the NFL. The fact that he'll be reunited with college line mate Icky Ekwonu should also help smooth the transition.
115 - 4 Bears Roschon Johnson, Texas, RB, 6003, 225, 4.58
In Johnson, the Bears get a tough inside runner who brings a hard-hat work ethic to the field. Wouldn't be surprised if he's a special-teams demon from the get-go.
116 - 4 Packers *Colby Wooden, Auburn, DE, 6040, 278, Jr, 3-4, 4.79
An already stout run defender whose combination of get-off and powerful hands give him a shot at being a dominant rusher from either the interior or off the edge.
117 - 4 Patriots Sidy Sow, Eastern Michigan, OG, 6046, 323, 5.07
A project whose play was getting more notice as the draft approached. Played a lot of games in college; we'll see if that experience allows him to get a foothold on the Pats' roster.
118 - 4 Commanders Braeden Daniels, Utah, OG, 6035, 307, 4.99
A good athlete who may not have enough bulk to start right away. But he could demonstrate the versatility that'll make new OC Eric Bienemy fall in love with him.
119 - 4 Chiefs Chamarri Conner, Virginia Tech, FS, 6000, 209, 4.51
A physical safety who doesn't shy away from contact. Given that he supports the run, plays well closer to the line, and lacks top-shelf speed, Conner might be better suited to play strong safety.
120 - 4 Jets Carter Warren, Pittsburgh, OT, 6054, 311, 5.24
Went higher than NFL Draft Scout projected, likely because Warren is already a pretty solid technician as a pass-blocker. Needs to be more aggressive in his run-blocking at the next level.
121 - 4 Jaguars Ventrell Miller, Florida, ILB, 5117, 232, 4.68
A tough undersized backer who's quick to diagnose plays and get downhill. Likely a rotational player and special teams fixture.
122 - 4 Cardinals Jon Gaines II, UCLA, OG, 6040, 303, 5.01
The light-footed but light-in-the-pants guard is athletic and skilled but needs to add some girth—he's not yet stout enough to fend off NFL bull rushes.
123 - 4 Seahawks Cameron Young, Mississippi State, DT, 6033, 304, 5.10
With the reach and hand power to shed blocks in the interior, Young is being asked to help fortify what was one of the league's worst run defenses in 2022.
124 - 4 Ravens Tavius Robinson, Mississippi, DE, 6061, 257, 4.66
Likely a project, Robinson is the type of athletically gifted, energetic and intelligent edge player that's been a staple of Baltimore's pressure defense over the years.
125 - 4 Chargers Derius Davis, WR, Texas Christian, 5083, 165, 4.36
Graced with hell-fire speed and open-field escapability, the pipsqueak Davis showed himself to be a dynamic returner at TCU (six career TD returns). We expect that'll be his calling card in the NFL.
126 - 4 Browns Isaiah McGuire, Missouri, DE, 6043, 268, 4.76
A potent rip move, suddenness off the snap, and an urgent playing style makes McGuire an intriguing prospect as a pass-rush specialist.
127 - 4 Saints Jake Haener, Fresno State, QB, 5115, 207, 4.72
Put Haener's feet, compact delivery, and arm strength on a bigger frame and you'd have yourself a potential first-round pick. He reminds some of ex-Bulldog David Carr. We suspect a productive showing in an exhibition game or two will have Saints fans comparing him to Drew Brees. Just stop already.
128 - 4 Rams Stetson Bennett, Georgia, QB, 5113, 192, 4.67
The feeling among many is that college football's ultimate winner will be exposed as an underwhelming QB at the pro level. But, you know what? Leadership and smarts travel, so it's not too difficult to imagine Bennett at least becoming a longtime, capable NFL backup.
129 - 4 Cowboys Viliami Fehoko, San Jose State, DE, 6036, 282, 4.77
Fehoko may possess only a highest-floor-in-a-mid-rise potential, but he plays with a jackhammer urgency that coaches and teammates will notice.
130 - 4 Jaguars Tyler Lacy, Oklahoma State, DT, 6043, 279, 5.11
An instinctive read-and-react interior player, Lacy packs a punch for his size but needs to develop better leverage to be anything more than a rotational piece.
131 - 4 Bengals Charlie Jones, Purdue, WR, 5113, 176, 4.43
Not to be confused with the longtime NBC announcer, the slightly built receiver Charlie Jones does his best work within a quick passing offense. Could ring up a lot of catches as a slot option for Joe Burrow.
132 - 4 Steelers *Nick Herbig, Wisconsin, OLB, 6021, 240, 4.65
Need meets value here. The Steelers need Herbig to be a relentless ball of energy to take pressure off T.J. Watt. Good chance Herbig delivers.
133 - 4 Bears *Tyler Scott, Cincinnati, WR, 5097, 177, 4.44
This diminuitive but electric prospect consistently shows off polished route-running. A potent slot receiver is just what Justin Fields needs to take that next step.
134 - 4 Vikings Jay Ward, LSU, FS, 6006, 188, rSr, 7-FA, 4.55
That Ward went this high is a surprise. Still, he showed himself to be a hard-hitting DB with a penchant for making highlight-reel plays.
135 - 4 Raiders Aidan O'Connell, Purdue, QB, 6033, 210, 4.92
Whether the Raiders consider him the long-term replacement for Jimmy G is not likely, but O'Connell is an accurate rhythm passer not afraid to take chances downfield.
136 - 5 Jaguars Yasir Abdullah, Louisville, OLB, 6005, 237, 4.47
Stockpiling outside backers over the past two drafts, the Jags will likely take advantage of Abdullah's speed and acceleration and have him exclusively rush the QB.
137 - 5 Commanders K.J. Henry, Clemson, DE, 6042, 251, 4.63
The Commanders add to a position of strength. Playing with Young, Sweat, and Allen may allow Henry to reach the elite potential he showed coming out of high school.
138 - 5 Colts Darius Rush, South Carolina, CB, 6017, 198, 4.36
A CB with good size and sudden closing speed, Rush should adapt seamlessly to Gus Bradley's zone-coverage packages.
139 - 5 Cardinals Clayton Tune, Houston, QB, 6024, 220, 4.64
A mobile, confident signal-caller who works efficiently in the short and intermediate areas of the field, Tune looks to bring leadership and stability to the Arizona QB group.
140 - 5 Browns Dorian Thompson-Robinson, UCLA, QB, 6015, 203, 4.56
And the Browns go for someone they hope will be a long-term backup to DeShaun Watson, to whom DTR is sometimes compared. Quality athlete and leader.
141 - 5 Vikings *Jaquelin Roy, LSU, DT, 6033, 297, 5.17
His fluidity and knack of slithering between offensive lineman could make him a disruptive force at the NFL level. Sometimes struggles to disengage from blocks at the point of attack.
142 - 5 Browns *Cameron Mitchell, Northwestern, CB, 5106, 197, 4.47
Having spent earlier picks to upgrade their DL, the Browns look to boost their secondary with this selection. Mitchell went quite a bit higher than most expected, but his advocates believe he's a solid all-around player.
143 - 5 Jets *Israel Abanikanda, Pittsburgh, RB, 5101, 216, Jr, 3, 4.45
A decisive runner with a good burst who led the ACC in rushing last year, "Izzy" falling to the fifth round hints at how much today's NFL values the RB position. That New York got him at this spot makes this a high-value get.
144 - 5 Patriots Atonio Mafi, OG, UCLA, 6025, 329, 5.52
Having already selected a center and a guard, the Pats going for the wrestling-bearish Mafi indicates just what the franchise thinks about the interior of last year's offensive line.
145 - 5 Panthers Jammie Robinson, Florida State, FS, 5105, 200, 4.59
A compact, competitive DB, Robinson's at his best when playing downhill. But he demos just enough coverage skill that Carolina may try to play him all over the back end.
146 - 5 Saints Jordan Howden, Minnesota, SS, 5115, 203, 4.49
An experienced DB with good measurables. Will bolster the depth in the New Orleans secondary.
147 - 5 Titans Josh Whyle, Cincinnati, TE, 6064, 248, 4.69
Rangy TE who runs good patterns, stresses the back end of a defense on seam routes, and is better after the catch than you'd think. Needs to improve his blocking.
148 - 5 Bears *Noah Sewell, Oregon, ILB, 6014, 246, 4.64
NFL Draft Scout pegged Sewell going much higher. Some question his instincts, but we like his athleticism, how he manhandles blockers, and his apparent love of collisions.
149 - 5 Packers Sean Clifford, QB, Penn State, 6020, 218, 4.62
An older prospect (25), this ruggedly mobile QB brings to the dance WTF-decision-making moments that'll stir memories of Brett Favre—now suddenly a selling point with cheeseheads since the departure of Aaron Rodgers.
150 - 5 Bills Justin Shorter, WR, Florida, 6042, 229, 4.55
His name doesn't do him justice, since Shorter often overpowers DBs, thanks to his size and skills at high-pointing contested throws. Buffalo needs WR depth, so this is a sensible selection.
151 - 5 Seahawks *Mike Morris, Michigan, DE, 6051, 275, 4.95
Blessed with long arms and a jolting tenacity, Morris sets the edge well on running plays and was on an upswing as a pass-rusher in 2022.
152 - 5 Lions Colby Sorsdal, OT, William & Mary, 6053, 304, 5.17
Not much seems to be known about Sorsdal. Good length but not a ton of bulk. We'll give him the benefit of the doubt and predict a solid career as a backup, before he follows W&M alums Sean McDermott and Mike Tomlin into the NFL head-coaching ranks.
153 - 5 Bucs SirVocea Dennis, Pittsburgh, ILB, 6004, 226, 4.64
Nothing about Dennis' measurables stand out but the Steelers hope he'll be a solid backup and special-teams menace.
154 - 5 Seahawks Olusegun Oluwatimi, Michigan, C, 6024, 309, rSr, 4-5, 5.38
A crafty, high-character player and leader who fits the type of center the Seahawks have gone for in the past.
155 - 5 49ers Darrell Luter Jr., South Alabama, CB, 5116, 189, 4.46
A long-armed corner who plays the ball well, Luter will be at his best in zone packages.
156 - 5 Chargers Jordan McFadden, Clemson, OG, 6022, 303, 4.99
Not an especially mobile player, McFadden will need to bulk up to be an effective NFL guard.
157 - 5 Ravens Kyu Blu Kelly, Stanford, CB, 6002, 191, 4.52
Worthy of being picked higher, Kelly boasts the competitiveness and coverage skills typical of corners who thrive in the Baltimore system.
158 - 5 Colts Daniel Scott, California, SS, 6007, 208, 4.45
A smooth, athletic gifted prospect, Scott could become a capable cover man, though his tackling leaves a lot to be desired for a strong safety.
159 - 5 Packers Dontayvion Wicks, Virginia, WR, 6013, 206, 4.62
Shaky hands and a drop in production cratered the draft prospects of Wicks who at times flashes elite route-running and ball skills. When he returns to the Pack in 2024, QB Aaron Rodgers is gonna love this guy.
160 - 5 Jaguars *Antonio Johnson, Texas A&M, FS, 6017, 198, 4.52
Only concerns about consistency can explain the fall of Johnson, whom we had going in Round 2. Instinctive in coverage and an aggressive, sure tackler, he could have an impact from this draft spot similar to that of Talanoa Hufanga.
161 - 5 Rams Nick Hampton, Appalachian State, OLB, 6022, 236, 4.58
With long arms, explosive movement, and flexible bend, Hampton has a number of physical traits you look for in a dangerous edge rusher.
162 - 5 Colts Will Mallory, Miami, TE, 6044, 239, 4.54
Mallory could be a factor as receiver at the NFL level, but he needs to improve his blocking to be anything more than a No. 2 TE.
163 - 5 Bengals Chase Brown, Illinois, RB, 5094, 209, 4.43
Has the kind of speed where "chase Brown" becomes something NFL coaches periodically yell at their defenses. An explosive, decisive runner, Brown is a threat to take it to the house from anywhere on the field.
164 - 5 Vikings Jaren Hall, Brigham Young, QB, 6001, 207, 4.64
Probably won't be more than a capable pro backup, Hall nonetheless can make all the throws asked of an NFL QB.
165 - 5 Bears Terell Smith, Minnesota, CB, 6004, 204, 4.41
Older and injury prone, Smith may not offer a ton of potential. Yet, he still has the size, speed, and footwork of someone capable of competing for a starting role in a couple of seasons.
166 - 5 Chiefs BJ Thompson, Stephen F. Austin, DE, 6056, 243, 4.61
Went higher than expected, this lengthy DE could excel as a spot performer in Steve Spagnuolo's defense.
167 - 5 Texans Henry To'oTo'o, Alabama, ILB, 6010, 227, 4.62
A really smart, efficient player who apparently isn't big enough or failed to make enough highlight-reel plays to warrant a higher selection. We think the Texans got a very solid long-term starting linebacker.
168 - 5 Cardinals Owen Pappoe, Auburn, ILB, 6002, 225, 4.39
A fall perhaps even more puzzling than To'oTo'o's. Pappoe is Exhibit A that an otherworldly 40 time won't always nullify concerns about a lack of size and collegiate production. Still...the fifth round?
169 - 5 Cowboys Asim Richards, North Carolina, OG, 6042, 309, 5.16
Cowboys get a seasoned player who brings a mauler's intent and temperament to the middle of the OL.
170 - 5 Raiders Christopher Smith, Georgia, FS, 5105, 192, 4.62
The third pick among the last four who fell much further than he should have. Smith's football IQ, communications skills, and versatility are exceptional and somehow went unappreciated in this draft.
171 - 5 Bucs Payne Durham, Purdue, TE, 6055, 255, 4.87
The former Boilermaker displays great hands and the physical presence to warrant the "Bull" Durham moniker. But is his blocking prowess enough to overcome his limitations as a receiver?
172 - 5 Giants Eric Gray, Oklahoma, RB, 5094, 205, 4.62
Not a home-run threat by any means, Gray still shows good vision and is underrated as a receiver.
173 - 5 49ers Robert Beal Jr., Georgia, OLB, 6036, 247, 4.44
One of those intriguing prospects whose production didn't measure up to his physical ability. He's the quintessential boom-or-bust prospect.
174 - 5 Rams *Warren McClendon, Georgia, OG, 6041, 306, 5.05
The Rams may move McClendon from his right-tackle position at Georgia, where he gave up zero sacks over the past two seasons. Noticeable upper-body strength but some worry about his inconsistent technique and effort.
175 - 5 Rams Davis Allen, Clemson, TE, 6057, 246, 4.84
Not much in terms of showing a burst off the line or an ability to separate, Allen still possesses an impressive catch radius that could make him a downfield option for Matt Stafford (or whichever able-bodied QB is playing in his stead).
176 - 5 Colts *Evan Hull, Northwestern, RB, 5101, 209, 4.47
Hull showed well at the Senior Bowl and could land a spot as a change-of-pace option to Jonathan Taylor.
177 - 5 Rams Puka Nacua, Brigham Young, WR, 6015, 210, 4.57
A physical receiver with a stout frame, Nacua performs suprisingly well as a vertical passing-game threat. Reminds some of Cooper Kupp, but presently shows nowhere near the route-running skill.
178 - 6 Cowboys Eric Scott Jr., CB, Southern Miss, 6010, 204, 4.54
The Cowboys starts off Round 6 by selecting a corner with good size but questionable upside. Not sure that Scott has the speed to play meaningful snaps for the Dallas D.
179 - 6 Packers Karl Brooks, Bowling Green, DT, 6033, 296, 5.09
Green Bay will move the extremely productive college end inside. Given Brooks' bulky frame, the position shift makes sense.
180 - 6 Cardinals Kei'Trel Clark, Louisville, CB, 5102, 181, 4.42
A smallish corner who plays with a peppery urgency. His build and skill set seem suited for a slot corner.
181 - 6 Bucs Josh Hayes, FS, Kansas State, 5111, 197, 4.47
Another player whose quickness suggests that the Bucs will use him as a nickel back. The film shows a player comfortable at playing both off and press coverage.
182 - 6 Rams Tre'Vius Hodges-Tomlinson, TCU, CB, 5075, 178, 4.41
A waif of a corner, THT does have a competitive streak that could allow him to stick as slot corner.
183 - 6 Broncos JL Skinner, Boise State, SS, 6036, 209, rSr, 2, 4.49
Skinner's size and physicality make him an attractive late-round prospect. Will do better the closer he plays to the line of scrimmage.
184 - 6 Jets Zaire Barnes, Western Michigan, OLB, 6013, 233, rSr, 7-FA, 4.56
Experience as a special-teams stud in college should serve Barnes well in the NFL.
185 - 6 Jaguars *Parker Washington, Penn State, WR, 5096, 204, 4.49
An interesting wideout whose physical gifts and collegiate production didn't align for some reason. Expect him to compete for a slot-receiver role.
186 - 6 Titans Jaelyn Duncan, Maryland, OT, 6055, 322, 5.10
A rangy OT with good feet who played a lot of snaps at Maryland. That combination of athleticism and experience could come in handy as he tries to make an NFL roster.
187 - 6 Patriots *Kayshon Boutte, LSU, WR, 5112, 195, 4.50
Boutte was a draft darling after an abbreviated but sensational 2021...then the bottom fell out. Perhaps the New England system can help this playmaker-in-waiting resurrect his performance.
188 - 6 Eagles *Tanner McKee, Stanford, QB, 6062, 231, 4.82
McKee has touch and throws a nice deep ball, but how well would the Eagles offense perform should he ever be asked to step in for a QB (Hurts) who plays so differently?
189 - 6 Rams Ochaun Mathis, DE, Nebraska, 6046, 250, 4.74
A long DE with a combustible first-step, Mathis hopes Aaron Donald stays around long enough to allow him to develop into a quality pass-rusher.
190 - 6 Browns *Luke Wypler, Ohio State, C, 6025, 303, 5.14
A stocky center, Wypler is a technician with nice lateral agility. A good value pick stays in state.
191 - 6 Bucs Trey Palmer, Nebraska, WR, 6002, 192, 4.33
Palmer is a flat-out blazer who enjoyed a productive 2022 campaign after transferring from LSU. Some believe the Bucs found a treasure with this pick.
192 - 6 Patriots Bryce Baringer, Michigan State, P, 6016, 216, 4.96
Not the directional punter that New England usuallys goes for, Baringer boasts a powerful leg and experience kicking in cold weather.
193 - 6 Commanders Chris Rodriguez Jr., Kentucky, RB, 5115, 217, 4.52
A physical, downhill runner who could prosper as a short-yardage back.
194 - 6 Chiefs Keondre Coburn, Texas, DT, 6016, 336, 5.22
Built like a bar ATM, Coburn could somewhere down the road make an impact as a two-down run-stuffing 0-technique player. Old-timers hope he's the second coming of Curley Culp.
195 - 6 Saints A.T. Perry, Wake Forest, WR, 6034, 198, 4.47
A penchant for drops led to Perry's drop in the draft. NFLDraftScout.com thinks he's a top 80 player, so the Saints should feel pretty good about this selection.
196 - 6 Bucs Jose Ramirez, Eastern Michigan, DE, 6017, 4.73
A shorter DE whose thick frame and burst off the snap are good foundations on which to build a pass-rushing repertoire. Think of him as a poor-man's Dwight Freeney.
197 - 6 Dolphins Elijah Higgins, Stanford, WR, 6030, 239, 4.54
Higgins is a physical mismatch who will complement Tyreke Hill and the rest of a Dolphin offense predicated on speed.
198 - 6 Seahawks Jerrick Reed II, SS, New Mexico, 5096, 196, 4.46
May have the versatility to stick in the NFL. Or he may not. Now that's versatile.
199 - 6 Ravens Malaesala Aumavae-Laulu, Oregon, OT, 6054, 317, 5.23
Will have NFL refs thankful that they identify the perpetrator of a penalty by number rather than name. Aumavae-Laulu is definitely a project but, starting with his size, there's a lot to like.
200 - 6 Chargers Scott Matlock, Boise State, DT, 6041, 296, 4.98
A high-character, hard-working prospect and decent athlete who'll vie as a rotational piece on the Chargers' DT.
201 - 6 Texans Jarrett Patterson, Notre Dame, C, 6051, 306, 5.33
Patterson's 6-5 frame is atypical for NFL centers, but he has the brains and versatility to play center or either guard position.
202 - 6 Jaguars Christian Braswell, CB, Rutgers, 5103, 183, 4.49
A smaller DB who nonetheless can enough acrobatic plays to draw notice in camp this summer.
203 - 6 Raiders Amari Burney, Florida, OLB, 6017, 230, 4.51
Gifted with terrific straightahead speed, Burney is also good at working his way through traffic, which should be useful during the typical Vegas morning rush hour.
204 - 6 Jets Jarrick Bernard-Converse, LSU, CB, 6006, 4.40
Brings experience, good size and speed, and is a solid tackler. JBC has the skill set to play in Robert Saleh's defense.
205 - 6 Texans Xavier Hutchinson, Iowa State, WR, 6017, 203, 4.53
We thought he'd go higher. Hutchinson is a quality receiver who offers more size and physicality than third-round pick Dell.
206 - 6 Bengals Andrei Iosivas, Princeton, WR, 6031, 205, 4.43
Another wideout we saw going earlier, Iosivas is a nice package of size, smarts, speed and route-running skills. In Cincy's offense, he could be a very productive player.
207 - 6 Packers Anders Carlson, K, Auburn, 6050, 219, 4.79
Will battle longtime incumbent Mason Crosby. Good leg with experience kicking in big games, but we're betting on Crosby.
208 - 6 Jaguars Erick Hallett II, FS, Pittsburgh, 5096, 195, 4.50
We didn't have Hallett getting drafted, but the Jags get a shifty fireplug to play over the slot.
209 - 6 Giants Tre Hawkins III, CB, Old Dominion, 6017, 188, 4.42
The Giants looked at the blend of length and speed and asked "why not?"
210 - 6 Patriots *Demario Douglas, WR, Liberty, 5082, 179, 4.44
Nice burst off the line but doesn't showcase the elite speed to offset concerns about his size. The Pats must have liked what they saw at the East-West Shrine Game.
211 - 6 Colts Titus Leo, Wagner, DE, 6030, 245, 4.69
Small-school prospect who flies around the field. Likely needs to stand out on special teams if he's to make the Indy roster.
212 - 6 Cowboys *Deuce Vaughn, Kansas State, RB, 5050, 179, 4.56
Set aside the measurables. The tape shows a battling, productive runner who can embarrass tacklers. Stands to be an exhibition-season darling who could very well make the roster as Pollard's backup.
213 - 6 Cardinals Dante Stills, West Virginia, DT, 6034, 286, 4.85
Lean as far as defensive tackles go, the relentless Stills may be a tweener who struggles to find a comfortable positional fit in the NFL.
214 - 6 Patriots Ameer Speed, Michigan State, CB, 6033, 209, 4.34
Ameer has speed in abundance. Size and physicality, too. Blame a lack of production for why he wasn't a higher pick.
215 - 6 Rams *Zach Evans, Mississippi, RB, 5111, 208, 4.51
Injuries held Evans down on the field and in the draft. But he's a patient runner who could be very successful in Sean McVay's offense.
216 - 6 49ers Dee Winters, Texas Christian, ILB, 5110, 227, 4.49
Undersized 'backer who's an instinctive playmaker and solid tackler. Uses his speed to shoot gaps but lacks the bulk to take on blockers.
217 - 6 Bengals Brad Robbins, Michigan, P, 6004, 199, 4.95
Not just Jake Moody's wingman, Robbins is a dependable directional kicker and solid at pinning opposing teams deep.
218 - 7 Bears Travis Bell, DT, Kennesaw State, 6000, 310, 5.03
Not a ton of film on Bell, but his dimensions suggest a 0-technique run-stuffing superstar. Are we off, here?
219 - 7 Lions Antoine Green, WR, North Carolina, 6016, 199, 4.47
Has the speed and size to take the top off NFL defenses. Green needs to sharpen his route-running but uncertainty with the Lions receiver depth gives him a puncher's chance.
220 - 7 Jets Zack Kuntz, Old Dominion, TE, 6073, 255, 4.50
Not many drafts have produced a tight end with Kuntz's sheer size and straightline speed. He'll be a downfield mismatch against most NFL safeties.
221 - 7 Colts *Jaylon Jones, Texas AM, CB, 6021, 200, 4.57
Has the size, physicality, and fearlessness you like in a corner, but the pedestrian speed means he might be better suited at safety.
222 - 7 Vikings *DeWayne McBride, Alabama-Birmingham, RB, 5103, 215, 4.50
Shoulda went much earlier. McBride is at times a scintillating back with excellent vision and balance who routinely powers through that first tackle attempt. Forecasts to be an excellent change-up to Dalvin Cook.
223 - 7 Rams Ethan Evans, P, Wingate, 6034, 238, 5.12
Been a long time between drinks for Wingate and the NFL (last player selected in 2007). We know that "Double E" has some pop in his leg and was one of only four Division II players invited to the 2023 East-West Shrine Bowl.
224 - 7 Falcons DeMarcco Hellams, Alabama, FS, 6005, 203, 4.57
What Hellams denies in eye-popping measurables, he brings in leadership, smarts, and big-game experience.
225 - 7 Falcons Jovaughn Gwyn, South Carolina, C, 6017, 297, 5.12
Atlanta doubles-up on SEC prospects. Gwyn is an undersized center but he's a good technician who played against tough competition.
226 - 7 Jaguars Cooper Hodges, Appalachian State, OG, 6035, 304, 5.11
Jaguars double down on interior offensive linemen (see Anton Harrison, Round 1), selecting a college tackle who'll be moved inside. Hodges has the frame to pack on some needed weight.
227 - 7 Jaguars Raymond Vohasek, DT, North Carolina, 6022, 306, 5.10
With the second of their back-to-back picks, the Jags address the interior of the DL, selecting a prospect with an interesting collegiate background.
228 - 7 Titans Colton Dowell, WR, Tennessee-Martin, 6027, 212, 4.44
The size and speed you like in a wideout, Dowell impressed at his Pro Day. The local pro team took notice.
229 - 7 Ravens Andrew Vorhees, Southern California, OG, 6060, 310, 5.22
How shortsighted and callous can the draft process be? Projected to be a Round 3 or 4 pick, Vorhees blew minds at the combine, doing a memorable 38 bench-press reps one day after suffering a significant knee injury. Nice to see such toughness and willingness to sacrifice getting rewarded.
230 - 7 Bills Nick Broeker, Mississippi, OG, 6043, 305, 5.27
Bills keep the focus of their draft on the OL. Another tackle-to-guard conversion to add depth in the middle.
231 - 7 Raiders Nesta Jade Silvera, Arizona State, DT, 6020, 311, 5.16
Unspectacular but dependable, Silvera shows enough lateral movement and raw power to help anchor the middle of the Vegas DL.
232 - 7 Packers *Carrington Valentine, Kentucky, CB, 5115, 193, 4.44
Valentine is a battler with a good closing burst. He needs to improve his technique if he wants to crack a talented Green Bay secondary.
233 - 7 Commanders Andre Jones, DE, Louisiana, 6044, 248, 4.78
Uses his hands well and at time plays with solid leverage when setting the edge. Diversifying his pass-rush moves is the next step.
234 - 7 Rams Jason Taylor II, Oklahoma State, SS, 5115, 204, 4.50
A well-built, solid safety who possesses terrific leaping ability (43" vertical), Taylor does his best work in the box, close to the line of scrimmage.
235 - 7 Packers *Lew Nichols III, RB, Central Michigan, 5101, 220, 4.61
A between-the-tackles thumper who might stick around as a special teams performer and short-yardage specialist.
236 - 7 Colts Jake Witt, OT, Northern Michigan, 6071, 302, 4.89
Witt's basketball background and related ranginess and athleticism make him an intriguing project.
237 - 7 Seahawks Kenny McIntosh, Georgia, RB, 6002, 216, 4.62
McIntosh has big-game experience and soft hands as a receiver to fall back on. Seattle scores two solid backs in this draft.
238 - 7 Dolphins Ryan Hayes, Michigan, OT, 6063, 305, 5.18
We graded Hayes higher than the seventh round. Miami also thinks that he has the versatility to become a quality swing tackle.
239 - 7 Chargers Max Duggan, Texas Christian, QB, 6014, 207, 4.52
Won't pose much of a threat to the still-blossoming Justin Herbert, Duggan still oozes the toughness and intangibles you want in a backup QB.
240 - 7 Jaguars Derek Parish, Houston, OLB, 6004, 241, 4.62
Possibility that the Jags also play Parish some at FB, as he has the strength and tenacity to be a solid lead blocker.
241 - 7 Steelers Cory Trice, Purdue, CB, 6033, 205, 4.47
A nice combination of size and straight-ahead speed. Trice struggles to turn his hips and run, which will be a liability in the NFL.
242 - 7 Packers Anthony Johnson Jr., Iowa State, FS, 5115, 205, 4.54
Might have the body and skill set to play both safety positions, though he doesn't seem to possess much in the way of upside for either role. Some analysts like Johnson more than we do.
243 - 7 Giants Jordan Riley, DT, Oregon, 6053, 338 5.31
Normally teams would be enthusiastic about the potential payoff of molding a project with such tremendous size. But Riley's elders-statesman stature (he's 25) will dampen that enthusiasm a bit.
244 - 7 Cowboys Jalen Brooks, WR, South Carolina, 6010, 200, 4.69
Body control and ball skills are evident but the lack of speed will make it difficult to separate from NFL corners.
245 - 7 Patriots Isaiah Bolden, FS, Jackson State, 6022, 201, 4.35
A productive collegiate kick returner, Bolden the safety might have landed with the ideal organization for maximizing his thrumming physical potential.
246 - 7 Bengals D.J. Ivey, CB, Miami, 6005, 189, 4.46
Has a nice set of physical tools. Ivey will need to refine his coverage skills in order to make his imprint.
247 - 7 49ers Brayden Willis, Oklahoma, TE, 6034, 241, 4.67
Niners again trying to find that quality No. 2 TE behind George Kittle. A solid blocker, Willis joins second-round pick Cameron Latu in that quest.
248 - 7 Texans 147. (6) *Brandon Hill, Pittsburgh, SS, 5103, 193, 4.43
Only attempt by Houston to add depth to their secondary. A tad undersized, Hill is a forceful player we had going a few rounds earlier.
249 - 7 Eagles Moro Ojomo, Texas, DT, 6025, 289, 5.04
Ojomo is a bit lean but has the quick first step and mobillity to be decent pass-rusher from the inside. With a DT pick that bookends the selection of Jalen Carter, Philly finishes off a noteworthy 2023 draft.
250 - 7 Chiefs Nic Jones, Ball State, CB, 5117, 189, 4.51
NFL Draft Scout ranked Jones as our 250th best overall player and he's the 250th prospect picked. Coincidence? The Chiefs get a special teams buzzsaw, and we'll be out buying lottery tickets.
251 - 7 Steelers Spencer Anderson, OT, Maryland, 6050, 309, 5.18
Played guard at Maryland but has the length to swing out to tackle, which is where the Steelers plan to try him.
252 - 7 Bills *Alex Austin, Oregon State, CB, 6010, 196, 4.55
At first blush, the Bills defensive backfield looks stellar but they had depth issues last year. So getting an astute CB with some decent length works here.
253 - 7 49ers Ronnie Bell, Michigan, WR, 5115, 191, 4.54
A combative, gritty athlete, Bell looks to reprise his role as a big-play return man and contribute in three-receiver sets.
254 - 7 Giants Gervarrius Owens, Houston, FS, 6003, 193, 4.57
The Giants may be doing nothing more than filling out their positional bingo card with this pick. Some observers, however, like Owens' experience and playmaking.
255 - 7 49ers Jalen Graham, Purdue, OLB, 6017, 226, rSr, 7-FA, 4.64
San Francisco hopes that Graham's versatility and ability to suss out plays make up for his underwhelming size and speed.
256 - 7 Packers Grant DuBose, WR, Charlotte, 6023, 201, 4.57
Not often does the word "exciting" attach itself to a seventh-round pick, but the powerful DuBose someday could be a lethal red-zone threat with his penchant for winning jump balls.
257 - 7 Broncos Alex Forsyth, Oregon, C, 6037, 303, 5.19
Has the IQ and probably the versatility to play center and both guard positions in the NFL.
258 - 7 Bears Kendall Williamson, SS, Stanford, 6004, 202, 4.49
Doesn't play as fast as his 40 time would indicate. Still, Williamson is an extremely heady player who packs a wallop in run support.
259 -7 Rams Desjuan Johnson, DT, Toledo, 6021, 314, 5.04
After the stunning success of last year's Mr. Irrelevant, people won't be so quick to dismiss a player with Johnson's relentless work ethic. Expect him to learn a lot playing behind Mr. Extremely Relevant, Aaron Donald.