2023 Draft: 14 QBs selected but DBs most popular with 56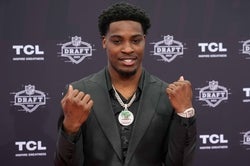 Apr 27, 2023; Kansas City, MO, USA; Illinois Fighting Illini cornerback Devon Witherspoon poses on the red carpet at the National World War I Museum and Memorial. Mandatory Credit: Kirby Lee-USA TODAY Sports
With the red carpet rolled up, the showpiece Lombardi Trophies back on their shelf and barbecue chewed to the bones, Kansas City returned to its version of normalcy this week after hosting the 2023 NFL Draft, an event viewed by some 54 million fans on various media and with more than 300,000 in attendance.
The NFL next revs up its traveling draft show in the Motor City, Detroit, April 25-27, 2024.
Buildup to the league's 88th annual draft this year was driven — as is often the case — by a quarterback debate, which turned controversial in the last days. There was also an interesting hangover from the 2022 draft that we will call the "Purdy Effect." More on all that later.
When push came to picking, it was defense that demanded more attention.
Cornerback was the most popular position, with 33 taken among the 56 defensive backs chosen. There were 40 pass rushers selected, either as outside linebackers or defensive ends. So quarterbacks were on the minds of teams, but mostly about harassing them.
Three of the highest-rated defenders were Alabama defensive end Will Anderson Jr., taken by the Texans, who made a slick trade to get him at No. 3; defensive end Tyree Wilson, grabbed by the Raiders at No. 7; and troubled Georgia defensive tackle Jalen Carter, stolen by the Eagles at No. 9.
Also of note, Illinois cornerback Devon Witherspoon, once a no-star prep recruit, was taken by Seattle at No. 5; multitalented Texas running back Bijan Robinson went to Atlanta at No. 8; and two offensive tackles were in the top 10: Ohio State's Paris Johnson, No. 6 to Arizona; and Tennessee's Darnell Wright, whose reputation soared after successfully blocking Anderson, to Chicago at No. 10.
Still, 14 quarterbacks were drafted, the most since 2016. Yet despite pre-draft hype of five specific quarterbacks, only three were taken in the first round: No. 1 Bryce Young (Alabama) by Carolina, No. 2 C.J. Stroud (Ohio State) by Houston and No. 4 Anthony Richardson (Florida) by Indianapolis.
Kentucky's Will Levis became a latter-day Aaron Rodgers by staring in a green room setting for the entire first round. At least Rodgers was taken No. 24 in his 2005 slide. Levis was selected No. 33 overall, on the second day, by the Tennessee Titans. Tennessee's Hendon Hooker, beset by a November ACL injury, went 68th overall, in the third round, to Detroit. Many pre-draft ratings predicted both would be taken in the first round.
Those are the numbers. But the story of the 2023 NFL Draft is yet to be told. More than most, this draft involved high-level intrigue and mystery that can be solved only by time. Judgments made now are folly. Put results of this draft and current opinions in a time capsule. Do not open until at least February 2026.
The Purdy Effect
There are tales to be told about those top five quarterbacks, but the overall picture at this important position was really impacted by Brock Purdy, the last player taken in the 2022 draft, by San Francisco. He proved anything but "Irrelevant."
Injuries gave him a chance, and Purdy stepped into the huddle and said, "Shut up, I have to call a play," and won seven games before injury beset him in the NFC Championship Game.
In a league notorious for copycats, teams thought if the last selection in the 2022 draft can do that, who else might follow suit? So nine quarterbacks were drafted in Rounds 4-7.
Those who make it owe Purdy, but there is one more factoid about that. Read on.
Young v. Stroud v. S2
Perhaps the most dramatic convolution in the last two weeks before the draft was the leaking of S2 Cognition tests, which use video screens or virtual reality to measure reaction.
It is used by 14 teams who are supposed to keep results secret. But word spread that Stroud scored only 18 percent while Young had 98 percent, and other top QB prospects fell in from the high 40s to mid-90s.
In December, Stroud was the odds-on favorite to be No. 1. By April, about the time the S2 tests were leaked, he slid to No. 2. Coincidence? Cause-effect? We might never know.
And there is this: In 2022, Purdy had the highest grade on the S2 test. Again, coincidence? Cause-effect? Again, we might never know. But it is weird, right? It's a FWIW thing, so don't overthink it.
Absent the test results, the key issue in comparing Young and Stroud was size. Young is 5-10 1/8, 190-ish and Stroud is 6-3, 214. Young is like a mini Patrick Mahomes in terms of being evasive and turning a bad situation into a good play. He doesn't have Mahomes' arm strength, which is another consideration. Stroud is the purest passer in the draft, with ample arm strength and an uncanny ability to throw receivers open.
Carolina coach Frank Reich said he made up his mind on Young a month before the draft and the S2 scores had nothing to do with it. OK, but results of this draft are far from decided. Whether Young can stand up to the pounding of NFL defenders is but one question. Others linger, such as:
—Can Richardson, with only 13 games of experience, translate his great athleticism into being an NFL quarterback, or will he slide to another position?
—Will Jalen Carter overcome off-field setbacks and play up to his sensational physical abilities?
—Will Hooker heal from that ACL injury and show why he was en route to a Heisman Trophy before being sidelined?
—Can Levis bounce back from his green-room embarrassment and muscle his way into being an elite quarterback?
—Can Georgia's little two-time CFB Champ QB Stetson Bennett (drafted 128th by the Rams) continue his implausible success?
—Will Bijan Robinson restore respect to the running back position by taking charge with his extraordinary running and receiving?
—Will S2 test results become more of a factor, as did the Wonderlic years ago? Will these tests replace game tape and scouts?
—Will Detroit be a Super Bowl champion, as was Kansas City, when it hosts the 2024 draft?
Oh, wait, that last question has nothing to do with this draft. Well, unless Hooker comes off the bench (sorry, Jared Goff) and takes the Lions where they've never been before. After all, these drafts are the foundation of dreams. Gives new meaning to the popular term "Wait 'til next year."