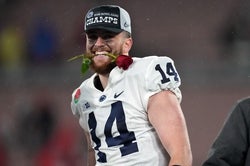 Sean Clifford
QB · Penn State
Physical Attributes:
| Pro. Rd. | Ht | Wt | Arm | Hand | Wingspan | Forty |
| --- | --- | --- | --- | --- | --- | --- |
| 5 | 6020 | 219 | 31 5/8 | 9 5/8 | 76 3/4 | 4.62 |
Workout Results:
| Event | Cone | Bench | Shuttle | 10 | 20 | 40 | BJ | VJ |
| --- | --- | --- | --- | --- | --- | --- | --- | --- |
| Combine | -- | -- | -- | -- | -- | -- | -- | -- |
| Pro Day | 6.84 | -- | 4.25 | -- | -- | 4.62 | 9'8" | 30.5 |
NOTES
Finished his career as Penn State's all-time leader in wins as a starting quarterback (32), completion percentage (.614), completions (833), passing yards (10,661), total yards (11,734), passing touchdowns (86) and pass attempts (1,356).
Rankings: Closed his career finishing third in passing efficiency (143.8), tied for sixth in yards per passing attempt (7.9) and eighth in touchdown percentage (6.34)...Left Penn State ranking second in school history in 200-yard passing games (27) and third in 300-yard games (8)...Among Penn State quarterbacks, ended his career third all-time in rushing yardage (1,073) and fourth in rushing touchdowns (15)...Finished time at Penn State ranking second all-time in program history in touchdowns responsible for (100).
Big Ten Rankings: Finished fourth in Big Ten history in career touchdown passes (86), fifth in passing yardage (10,661), seventh in completions (833) and attempts. Notable: One of two Penn State players to reach 11,000 yards of total offense and the only quarterback in program history to eclipse 10,000 passing yards...Owned 32 career games with multi-touchdown passes, including 17 with three or more TDs and six with four or more...Threw for at least 250 passing yards and three passing touchdowns in 11 career games...Finished with seven career touchdown passes of 70 or more yards...Completed 150 career passes of 20 or more yards...Finished his career with four of the top eight pass plays in school history (1st, 4th, T-5th, 8th)...Had 11 games with both a passing and rushing touchdown and Penn State is 10-1 in those games.
Bowl games: Owned 607 career passing yards in bowl games, good for second in program history.
Game: Records Set: Completed 38 passes at Ohio State (10/30/21), tying the program record with Matt McGloin (vs. Northwestern, 2012)...Attempted 57 passes against Maryland (11/7/20), breaking the Penn State record held by Christian Hackenberg (55; at Indiana, 2013)...Threw for 287 yards in the first half at Maryland (9/27/19), breaking the PSU record held by Trace McSorley (258; Georgia State, 2017)...Connected with Daniel George for a 98-yard touchdown pass against Kent State (9/15/18) for the longest pass play and longest play from scrimmage in program history, breaking the previous longest pass record of 92 yards from Bill Hess to Bob Higgins in 1919 and longest play from scrimmage record, set four different times on 92-yard plays, most recently a 92-yard run by Saquon Barkley vs. Washington in the 2017 Fiesta Bowl...Hit Jahan Dotson on 75- and 70-yard touchdown passes against Illinois (12/19/20), the first time in program history Penn State had two passing plays of 70 or more yards in the same game.
HISTORY
2022: Finished third for a single season in Penn State history in completion percentage (64.4), tied for fourth in passing touchdowns (24), fifth in passing efficiency (150.5) and eighth in completions (226) and passing yards (2,822)…Ranked fifth in school history for single-season touchdowns responsible for (29) and ninth in total yards (2,998).
2021: Became the only Penn State quarterback to have three games with 250 passing yards and three passing touchdowns in two different seasons and marked the fourth occasion a PSU signal caller has accomplished the feat, joining himself (2019, 3 games), Trace McSorley (2017, 4 games) and Christian Hackenberg (2013, 3 games)...Finished third all-time in a single season at Penn State in passing attempts (429), fourth in passing yardage (3,107) and completions (261), fifth in completion percentage (.608) and tied for seventh in touchdown passes (21)...Ended the year tied for second in 300-yard passing games (4) and tied for sixth in 200-yard passing games (8)...Finished fourth in total offense (3,270).
2020: Finished fifth all-time at PSU for single-season completion percentage (60.6) and eighth in rushing yards for a quarterback (335)...Threw for 11 touchdowns in the first five games, marking the third occasion a Penn State quarterback has done so since 2000 (Clifford, 12 in 2019; McSorley, 11 in 2018).
2019: Was the fifth quarterback in program history to have multiple games with four or more passing touchdowns...Finished fifth all-time at Penn State in single-season passing touchdowns (23), seventh in passing efficiency (148.54), eighth in passing yardage (2,654), ninth in completion percentage (59.2), tied for 10th in 200-yard passing games (6) and 14th in completions (189)...Was seventh for total yards in a season (3,056) and was tied for eighth with 28 touchdowns responsible for...Finished with 402 rushing yards (4th most by a PSU quarterback) and five rushing touchdowns (T-11th).
PERSONAL
Full name is Sean Burke Clifford...Son of Kelly Burke and John Clifford...Has one younger brother, Liam Clifford, who is a member of the Penn State football team ...Cousin, Ann, is currently attending Penn State...Hobbies include youth quarterback training, golf and playing basketball...Earned degree in advertising and public relations and working on a second major in journalism...Would like to pursue a career in sports management.
Sorry - we do not have campus agility test results for Sean Clifford right now.
Sorry - we do not have injury report notes for Sean Clifford right now.
Sorry - we do not have high school notes for Sean Clifford right now.
Sorry - we do not have personal notes for Sean Clifford right now.
Sorry - we do not have any career notes for Sean Clifford right now.
Note: Click back button on browser to return to previous page
Recent Sean Clifford Stories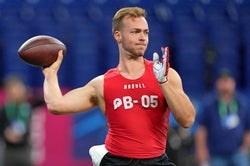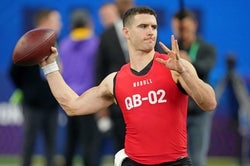 2023 NFL Draft: Team by Team Selections

2023 NFL Draft — Team by Team