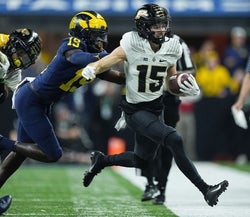 2023 NFL DRAFT: By Actual Positions, with Ht., Wt., 40 time
2023 NFL DRAFT BY POSITION 4 digit height: 1st=feet; 2nd/3rd=Inches; 4th=Eighths of inch  *=Undersclassman   QUARTERBACKS - 14 Pos. Rd.- Overall Team: Player, School, Ht. , Wt., 40 yds 1  QB 1- 1 Panthers: *Bryce Young, Alabama, 5101, 204, 4.58 2  QB 1- 2 ...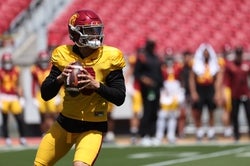 New QB debates loom as 2023 CFB season precedes 2024 NFL Draft
Just when you thought the quarterback draft debates were done, it's time to discuss new ones as the 2023 college football season, with those 2024 draft prospects, is almost within view. See it? Right there on the calendar, starting August 26 with seven games, ...
COMING
The Sports Xchange/NFL Draft Scout, in partnership with the Pro Football Hall of Fame, will launch an expanded multi-media product that covers the best of the best of players from all of football - High School, College, Pro and into retirement and the Hall of Fame. We soon will have a password-protected demonstration of this unique production. Stay tuned.
Meantime we are seeking qualified applicants to work with us much as many of the biggest names in this business gained their first major multi-media exposure. The list of alums from The Sports Xchange and NFL Draft Scout includes Dane Brugler (The Athletic), Kevin Demoff (GM, L. A. Rams), Jay Glazer (FOX insider), Rob Rang (FOX Draft, CFL Scout), Chad Reuter (NFL.com), Jim Trotter (NFL Network), Steve Wyche (NFL Network), Brian "Hitman" Hitterman (Draft Scout and Madden ratings guru) and many more. You could be next. Contact us with appropriate information at intern@sportsxchange.com
W.I.P. Disclaimer
This NFL Draft Scout site is a work in progress, re-launching a re-engineered publication for professional and public consumption after serving as the most widely distributed content of its kind since 1987.
For more than three decades, NFL Draft Scout was ubiquitous on the internet and created the primary draft content for the NFL, CBS, NBC, FOX, AOL, Reuters, STATS, Lindy's and much more. The new version is still based on an active database of more than 12,000 draft eligible players at any one time and historic information back to the first combined AFL-NFL draft in 1967. (See "Coming" at bottom of page)